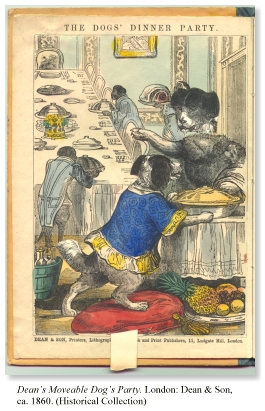 Historical Collection
Who was Oliver Optic? Why was "Peter Parley" (pseudonym of William Taylor Adams, 1822-1897) such a successful writer for 19th century youth? A prolific author of children's books, Adams was considered at the time to be the chief rival of Horatio Alger. In 1867 Adams founded a magazine for children, Oliver Optic's Magazine for Boys and Girls.
The search for answers to such questions will lead to the Library's historical collection of over 2300 books for children published mainly between 1800 and 1910.
Acquired by gift and purchase over the course of the Library's history, the collection is strongest in British and American publications, but includes selected French, German, and Russian titles as well. Among the children's periodicals included are such early titles as The Youth's Friend and Scholar's Magazine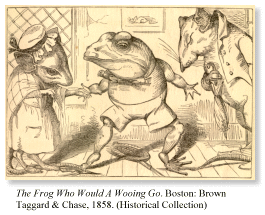 (1820s) and Merry's Mirror and Parley's Magazine (1840s) as well as a long run of Saint Nicholas' Magazine, begun in 1873, which was widely subscribed to by American middle-class families.
Notable is an extensive collection of over 700 British and American chapbooks, published between 1800 and 1850. Typically small format, 16 or 24 page unbound books, with neither the author nor the illustrator identified, these chapbooks were designed to sell cheaply or to be given out free. Often published by Sunday School societies and other groups promoting moral uplift, they generally contain stories intended to be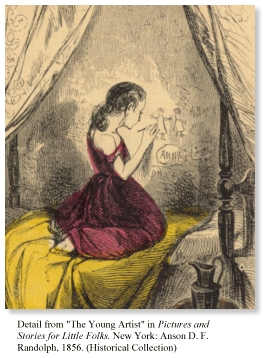 inspirational as well as amusing. With these surviving chapbooks as evidence, students and scholars can try to fathom the impact on the minds of early 19th-century youth of such tales as The Pious Apprentice, or the Life of James Douglas (1824) or The Affecting Story of Mary Davis (1832).
---
Return to Contents or go to
Introduction Darton Collection Historical Collection Annie E. Moore Collection Twentieth Century Retrospective Collection Contemporary Collection Related Collections