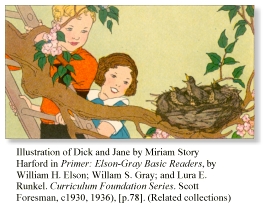 Related collections
The Milbank Memorial Library provides a wealth of resources that document the broader educational context in which children's literature plays a significant role. Extensive collections relate to the theory, methods, curricula, and institutions of education.
Paralleling the children's literature collections are the collections of elementary and secondary school textbooks, including primers, readers, histories, geographies, and other sources of literary content. American textbooks from both the nineteenth and twentieth centuries are included, along with a large and virtually unique collection of international textbooks.
An additional resource is an archival set of each of the educational books published by Ginn & Company, from the mid-19th century through the early 1980s.
Notable among manuscript collections are the records of the Child Study Children's Book Committee. This collection documents the work of the Committee, from 1913 to 1985, in evaluating children's literature and preparing recommendations for parents and teachers.
---
Return to Contents or go to
Introduction Darton Collection Historical Collection Annie E. Moore Collection Twentieth Century Retrospective Collection Contemporary Collection Related Collections