Annie E. Moore Collection
The special project of Professor Annie E. Moore, who offered courses for teachers of kindergarten and primary grades at Teachers College from 1910 to 1931, was the enhancement of the Library's historical collections of illustrated books for children.
Recognizing the significance of illustrations for children's literature, and perceiving the continuing need for students and researchers to have access to notable illustrations, Moore began systematically to collect books with some of the best illustrations. Upon retirement, she donated a fund to the Library for the continued purchase of illustrated children's books and, from her home in California, provided consultation to the librarians in the selection of choice items.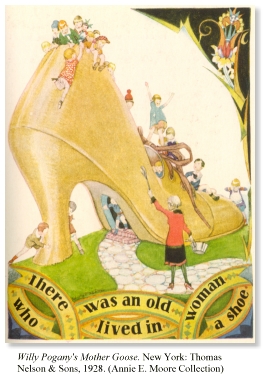 While nineteenth-century titles selected by Moore for their illustrations have been integrated into the Historical Collection, about 150 twentieth-century books have been maintained as a distinct Annie E. Moore Collection. Such books as Edward Lear's Complete Nonsense Book(1912), illustrated by the author, and E. B. White's Charlotte's Web (1952), illustrated by Garth Williams, give insight into how the conceptual and technological developments of the graphic arts contributed to the visual and emotional as well as literary education of 2Oth century youth.
---
Return to Contents or go to
Introduction Darton Collection Historical Collection Annie E. Moore Collection Twentieth Century Retrospective Collection Contemporary Collection Related Collections