CHILDREN'S LITERATURE COLLECTIONS
IN THE MILBANK MEMORIAL LIBRARY
Introduction
Darton Collection
Historical Collection
Annie E. Moore Collection
Twentieth Century Retrospective Collection
Contemporary Collection
Related Collections
The integral relationship between children's literature and the broader educational enterprise has long been recognized at Teachers College and is the basis of the Library's extensive historical and contemporary collections in this area.
As early as 1908, the importance of these materials was recognized with the establishment of a "Children's Library." With the opening of Russell Hall, in 1924, the children's literature collection obtained a distinctive space on the fifth floor. Gradually, important collections of historical children's literature were developed, including the Darton Collection, the Historical Collection, and the Annie E. Moore Collection. These are now accessible through the Library's Special Collections department, while the more recent twentieth century retrospective collection and contemporary collections are available in the Resource Center on the fifth floor of the Library. Generally, records for all of these materials are included in the public card catalog, and the latest acquisitions are included in EDUCAT, the Library's on-line public access catalog.
Overall, the Library's children's literature collection totals about 30,000 volumes, spanning four centuries. It provides the basis for research in cultural, literary and educational history, for contemporary comparisons and literary analysis, and for the development of curricula and educational programs.
Jennifer Govan
Assistant Director, Collections and Curriculum Support Services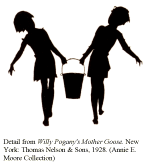 David Ment
Head, Special Collections
Jane P. Franck
Library Director
---
Return to Contents or go to
Introduction Darton Collection Historical Collection Annie E. Moore Collection Twentieth Century Retrospective Collection Contemporary Collection Related Collections