TIMELINE: GRACE HOADLEY DODGE, 1856–1914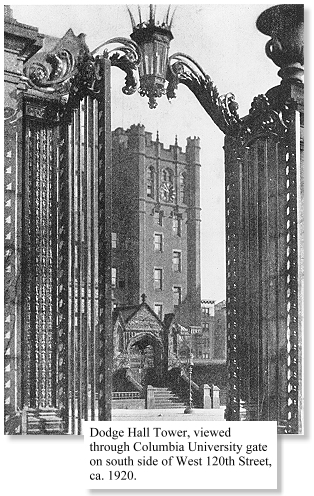 1856 – Born in New York City. First daughter and oldest child of Sarah Hoadley and William Earl Dodge, Jr., granddaughter of William Earl Dodge, Sr., "The Christian Merchant."
1872–74 – Attended Miss Porter's School in Farmington, Connecticut.
1875 – Began teaching Sunday school at Madison Square Chapel.
Began teaching in the industrial schools of the Children's Aid Society.
1876 – Met evangelist Dwight Moody, a guest in Dodge family home.
New York State Charities Aid Association.
Chair of the Committee on the Elevation of the Poor in their Homes.
1880 – Helped found the Kitchen Garden Association.
1881 – Formed first Working Girls Society.
1884 – Reorganized the Kitchen Garden Association into the Industrial Education Association.
1885 – Formed the Association of Working Girls Societies.
1886 – One of the first women named to the New York City Board of Education.
1887 – Hired Nicholas Murray Butler as president and reorganized the Industrial Education Association into the New York College for the Training of Teachers.
1892 – New York College for the Training of Teachers becomes permanently chartered as Teachers College.
1892–1911 – Served as first treasurer of the Board of Trustees of Teachers College.
1905 – Established the Girls' Public School Athletic League
1905 – Mediated dispute between two rival central groups within the Young Womens Christian Association.
1906 – Named president of the National Board of the Y.W.C.A. of the United States.
1907 – Consolidated several church-supported organizations into the New York Travelers Aid Society.
1910 – Attended the Edinburgh Ecumenical Council.
1911–1914 – President of the Board of Trustees of the American College for Girls at Constantinople.
1912 – Merged the American Association for the Abolition of State Regulation of Vice and other social purity groups into the American Social Hygiene Association.
1913 – Contributed $625,000 with her brother Cleveland to the combined building drive of the Y.M.C.A. and Y.W.C.A. of New York.
1914 – Died in New York City.