EARLY LIFE AND FAMILY
It was understood by those that knew and worked with Grace Hoadley Dodge in the years following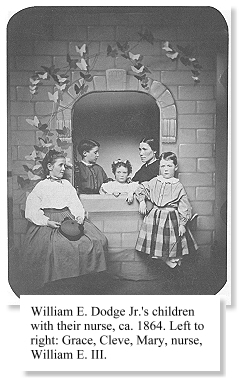 Teachers College's founding in 1887, that the college would have never survived without her sustained interest and support. Dodge, who founded Teachers College with Nicholas Murray Butler, a young professor at Columbia University, was a principal benefactor of Teachers College during its early history and an unwavering believer in its potential for growth.
A deeply religious woman, Grace Dodge was the product of a generation of middle to upper-class woman who were actively involved during the late nineteenth and early twentieth centuries in social reform causes in cities across the nation. Characterized as a having a "clear and practical mind," but "no sense of humor whatever," Dodge dedicated her entire life to urban social reform. Besides Teachers College and its antecedent organizations, the Kitchen Garden Association and the Industrial Education Association, Dodge was active, among other organizations, in the
Working-Girls Society, the YWCA, the Travelers Aid Society, the Riverdale Neighborhood and Library Association and the American Social Hygiene Association.
Grace Dodge's entry into the world of social reform and institution building came naturally. Born in 1856 to Sarah Hoadley Tappan Dodge and William Earl Dodge, Jr., Grace was reared in a family distinguished by its great wealth and its involvement in Protestant evangelical causes and civic affairs in New York City. Primary figures in the development of industrial capitalism in the United States, the Dodges secured their fortune through the establishment of what became the largest copper producing company in the United States, Phelps, Dodge and Co. For the Dodges, evangelicalism, business and entrepreneurship went hand in hand. From their point of view, wealth was a God-given right meant to be used to further Christ's work on earth. On the basis of that belief system, the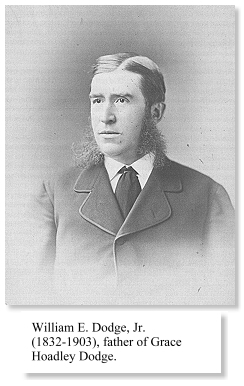 Dodges harnessed their financial resources and power in the service of social reform in New York City.
Grace's grandfather, William Earl Dodge, was nicknamed the "Christian merchant" for having contributed "to every free evangelical church to every religious and benevolent movement started in New York City between the years 1830 to 1880." Following in his father's footsteps, William Earl Dodge, Jr. was a strong supporter, among other New York institution's, of the YMCA, the Metropolitan Museum of Art, the Evangelical Alliance, the New York Children's Aid Society, American Natural History Museum, the Union Theological Seminary and the American Sunday School Union, as well as, Teachers College.
By virtue of both her mother and her father's dedication to civic and religious service, Grace Dodge, who was the eldest of six children, was introduced to the principles and practices of social reform at an early age. Located in the fashionable area of 39th Street and
Madison Avenue (on the same block as the Theodore Roosevelts), the Dodge home was a place, described by one contemporary observer, where "the great workers in all lines of social and religious uplift were constantly received as familiar and valued friends." Included among those Grace came in contact with were Dwight L. Moody, Charles Loring Brace, Louisa Lee Schuyler, Daniel Coit Gilman, and Henry Drummond.
Undoubtedly, the experience of meeting prominent religious and social leaders made a lasting impression on Grace, influencing her decision to reject a far more private and less demanding lifestyle, typical of a woman of her social standing, in favor of a life directed toward reform activism. It was following her return from Miss Porter's School for Girls in Farmington, Connecticut, where she studied between 1872 and 1874 that Grace became involved, as noted in her "Record Book," in a number of reform organizations and associations in New York City.
As was typical of the reform ventures women of this period were involved in, Dodge's activities were aimed at helping impoverished immigrant women and children. By 1880, she had organized the Kitchen Garden Association, which (directed toward training small girls likely to become household servants in the rudiments of domestic skills) grew into the Industrial Education Association, which, broadening its educational objectives, in turn became Teachers College.
Until her death in 1914, Grace Dodge was a guiding spirit for Teachers College. Much to her credit, she ensured the financial solvency of Teachers College, enabling it to expand and grow on the basis of her own generosity and her tireless efforts to raise money. Beginning with the appointment of Grace's nephew,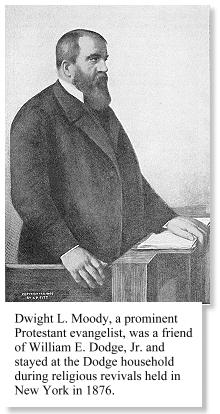 Cleveland E. Dodge, to the Teachers College Board of Trustees in 1915 to the recent support of the Dodge Foundation and the appointment of Cleveland E. Dodge's grandson, William Dodge Rueckert, to the board in 1997, the Dodge family has remained committed over the course of the century to the continued success of Teachers College.